Product Portfolio:

UDG has a customer base that spans multiple industries. For every project we strive to provide our clients with quality, custom engineered products and solutions. We are proud to deliver our customers a professional product for every job, big or small. A few samples below, offer a look at some of our projects, from the design stage to the finished product. We have a variety of skills and engineering experience to offer,
contact us
today to find out how we can help you.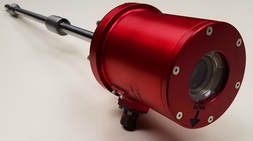 MK 43 MOD 1 Video Boresights:
We have designed and manufactured video boresights for bore sizes of 30mm, 25mm and 7.62mm. Other bore sizes are available, contact us for more information. The boresight camera can be configured to connect directly to a remote weapon system and use the operator's display (e.g. MK38 MOD 2), or we can provide a custom remote video
assembly.



---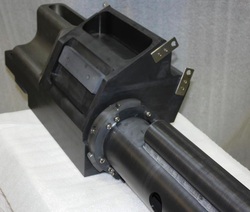 MK44 Mass Simulator:
A mass simulator was designed to simulate the weight and CG of the MK44 30mm Chain Gun. The customer specified the allowable tolerances on system weight and CG location. This simulator has the same mounting interface and same barrel interface of the MK44. The latest revision includes feed chute and link stripper interfaces. This allows the customer to utilize the simulator for testing any MK44 system/mount.





---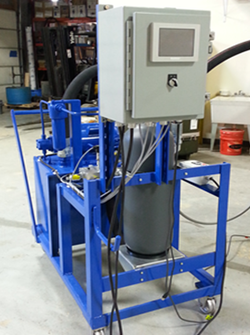 M242 Recoil Simulator:
We designed a hydraulic recoil simulator for the M242 25mm Chain Gun. This system consists of a custom power unit, custom hydraulic cylinder and machined components. Incorporated into the design is a recoil buffer and interface with the standard M242 barrel. The simulator operates at the same rate of fire as the M242, 3 rounds per second, and the magnitude of the recoil forces are equal with the gun. This system allows the customer to expose their mounting system to the shock and vibration of a live fire test without exposure to the elements, innate security and risk of firing. Additionally, the system eliminates the expense of ammunition, a firing range and the required man power.






---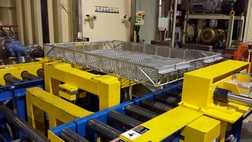 Automated Pallet System

This project was a tandem effort with our sister company, UIS. UDG designed a system that used a combination of hydraulic and pneumatic components. This system was fully integrated to operate with the customers conveyor system and oven. UIS managed the field installation and systems integration with the customer.

---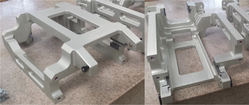 M230LF Gun Cradles
These cradles are designed to hold the M230LF 30mm chain gun. This was an intricate design developed through an iterative process of engineering analysis and manufacturing processes. A production-level TDP was created to ensure fit/functionality/interchangeability between systems.

---
Other Project Examples